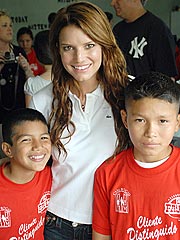 jessica simpson donated a free minivan to an orphanage in mexico.



"I'm so honored and happy to be able to help," said Simpson, who hugged Mama Lupita and the throng of kids who had waited anxiously to see her and presented her with gifts, including an engraved plaque with a photo of the kids and a beaded necklace they'd made for her.



A spokesperson for Chrysler confirmed: "Instead of the Chrysler Crossfire, she decided to get a minivan for the orphanage instead. She went for the Chrysler Town & Country."



what does she do for an encore, deliver the used toilet paper from her ass? if you're going to give a shitty a gift, go the distance and give a shitty gift.