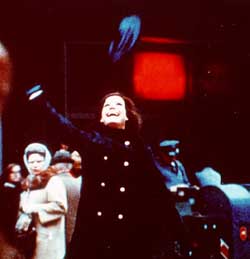 this is one of my favorite images. I've only seen MTM in re-runs. izzy (one of my oldest and dearest bff'ers), and I call each other on our birthdays to sing the theme song every year. every single year.




I always watch the intro to an episode when I'm a bluejew and it makes me smile. for that moment everything is right with the world. I love that. I love that I have that.




I'm just venting here. I don't need a pep talk or anything. I just know that as you get older, life doesn't get easier. it seems that more bad news than good news is common.




when you think you can't go another round. you can. because you are that strong and you are that capable. you are also able to appreciate what you have if and I do mean IF you are willing to look in the nooks and the crannies. read between the lines and look a little bit deeper. I'm not saying it's easy. in fact, I think running into a 70-year-old hooker with a prolapsed uterus in a pink mini skirt at hunter's point STILL able to turn a trick is way easier.



today was my aunt fudgie's birthay. she turned 87. every year she comes up with a slogan. last year it was, I'm 86 and in a mothah fuckin fix. she was recovering from a virulent eye cancer. this year, her slogan is I'm 87 and I ain't in heaven. she played me her birthday recordings that she put together for her fiesta. dude, she is queen of the mix tape. celebrate good times, sexy back and drop it like it's hot. if that isn't one inspiring broad, I don't know who is.